You've found the Special Discount Page for Handwriting University Email Subscribers ...
Last Minute Tickets Still Available


Call us with any questions: 1-310-684-3489 Ext. 2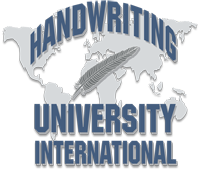 ---


Join People from Around the Globe at the World Renown Handwriting University's Annual Conference. 
Imagine yourself in Las Vegas learning, mingling, and dining with some of the
top Handwriting Experts in the world while refining and mastering your skills.
Go here to RSVP your seat at the discounted price.
---

"If you're at the point where you want to change your life, this course is a must! You'll learn more about yourself and other people than you ever thought possible, and you'll make money in the process."

Jennifer Jeffcoat, Sales Rep, Orlando, Fl

"I have already seen and experienced wonderful changes through grapho-therapy. People at work now seek me out as an expert in my field, and I have had many recent offers to manage important projects. All this happened in about a month from first raising my t-bar!"

Diane McCafferty Engineer, Sandy Hook, CT

"This course has helped me personally understand myself clearer and helps me see areas of my personality that need changing. I am fascinated with what makes a person act the way they do so this can give me great insight. I LOVE THIS COURSE! I believe it is totally worth the money. In fact, I believe you should charge more. You can't put a price on the information you present and the effects it can have on people."

Jody Miller, Sugarland, TX USA

This handwriting course is better than any drug or shrink. I do appreciate your humor- not a boring class. I'm in control of any and all changes in my life, I'm able to remove bad traits, improve traits that improve me as a person. I'm understanding people through handwriting. I'm able to help others change their lives. You were an answered prayer when I found your website!

Peggy Walla, Corporate Officer, Columbus, TX , USA

"This course has been amazing! With a background in clinical research, my first reaction was to search for the evidence that this science is accurate. Upon investigation, biologically, handwriting analysis' validity makes perfect sense. Ultimately, my own personal improvement was all the proof I needed to change from skeptic to believer!"

Deborah Mraz Clinical Research Specialist, Wilmington, NC

"This seminar has changed my life. It is the most efficient and effective method for personal development and for improving the quality of one's relationships."

Kim Radcliffe, Attorney and Mediator, Orlando, FL

Thank you. There is no way to fully express my gratitude for this seminar. I think it came at just the right time. I am very excited that I will be able to help people. I have finally found my niche. Anyone considering taking this course, should stop considering it and DO IT! I'm thrilled in knowing I go home with so much more than ever before.

Kim Brown, Private Investigator Hyde Park, Utah, USA