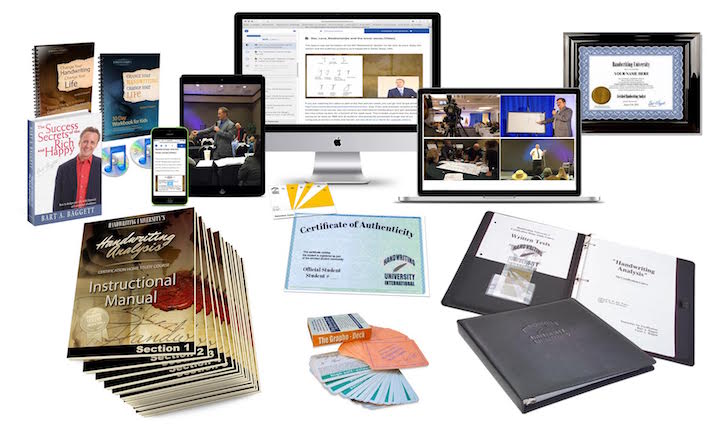 Handwriting University Certification Course is now available wordwide and we even have private tutors Hindi, Spanish, and other languages worldwide. Enroll Today and Start a new career in helping other design their life with purpose and deep fulfillment. Learn More
The World's Best Handwriting Analysis Training Is Now 100% Online and You Can Have Instant Access.

Become trained in Scientific Handwriting Analyst through
Bart Baggett's easy-to-learn handwriting analysis system...
guaranteed to give you the tools for insight, accuracy,
and improve both business and personal relationships.
Toll Free 1-310-684-3489 ext 2
Visit the Discount Page or the full online Catalog
Page to view all books, courses, and handwriting analysis programs for sale.
| | |
| --- | --- |
| | Handwriting University Course Information, Product Catalog & Articles by Bart Baggett |

If you have any questions about which of our programs will help you the most, call our office 1-310-684-3489. Ask about the unadvertised financing options, free seminar tickets, and special tele-classes for this month.
Learn to analyze Handwriting for fun and a 2nd career by enrolling now into Handwriting University's Certification Program.

Dear Future Handwriting Expert,

If you are curious about building a career or just a fascinating hobby in handwriting analysis or graphology, this site is your one-stop resource. Whether you are looking for a simple free special report, an online video training course for free (level 100 is free with Basic Free Membership) or a full blown Master Level Handwriting Analysis Course (Advanced Students Only) ... Handwriting University is for you.
My name is Bart Baggett. You might a have seen me on one of 1600 media interviews over the past decade including Today Show, CNN's Paula Zahn and Larry King Live, and even I love New York on VH1. I can teach you the step by step method that made me so successfuly, highly paid, and a celebrity in many circles. In fact, my handwriting analysis technique is soooo accurate, we now have trainers in Taiwan, India, South Africa, Indonesia , Australia and opening more campuses each year.
I can teach you this handwriting analysis method which is so accurate, it makes most books other books look like guessing.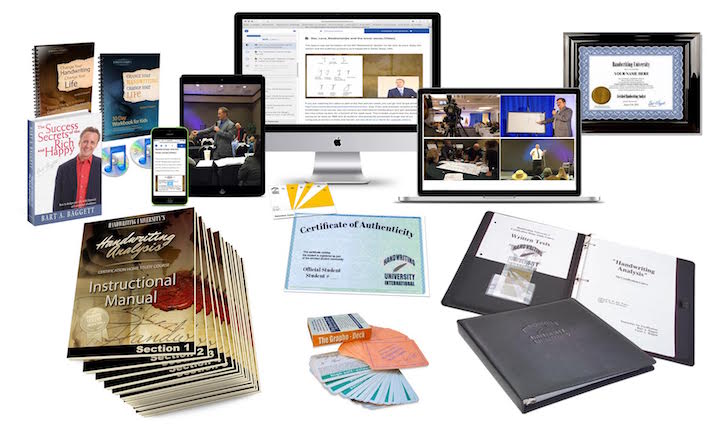 Now, you can become a certified expert in just a few short months. Many people, like you, hear about handwriting analysis and are really entertained and interested, but you might have never stopped to ask how learning this tool can be used to improve every area of your life.
We have 5 Levels of programs to choose from, depending on how serious you are about mastering this psychology of success through handwriting. Most students jump into the course in the following sequence... level 101, Certification Course, then start a business through the Authorized Mentor Training Program where we teach business and marketing skills.

Before you know it, you are certified as a handwriting analyst and earning $300 - $500 per hour part time! (If you are really a tire kicker, you can just read the newsletter each week until your curiosity gets the best of you and you break out your wallet and get the home study course. No hard feelings, you will love the weekly newsletter! )


Bart Baggett
President of Handwriting University.com
1-310-684-3489
Call our office anytime with questions or talk to a local representative in your home country.
Visit the Catalog Page and get enrolled now in US prices.
Certification Students Comment
Thank you. There is no way to fully express my gratitude for this seminar. I think it came at just the right time. I am very excited that I will be able to help people and understand myself deeply. I feel every area of my life will improve.
Anyone considering taking this course, should stop considering it and DO IT! I'm thrilled in knowing I go home with so much more than ever before.
— Kim Brown, Private Investigator, Utah, USA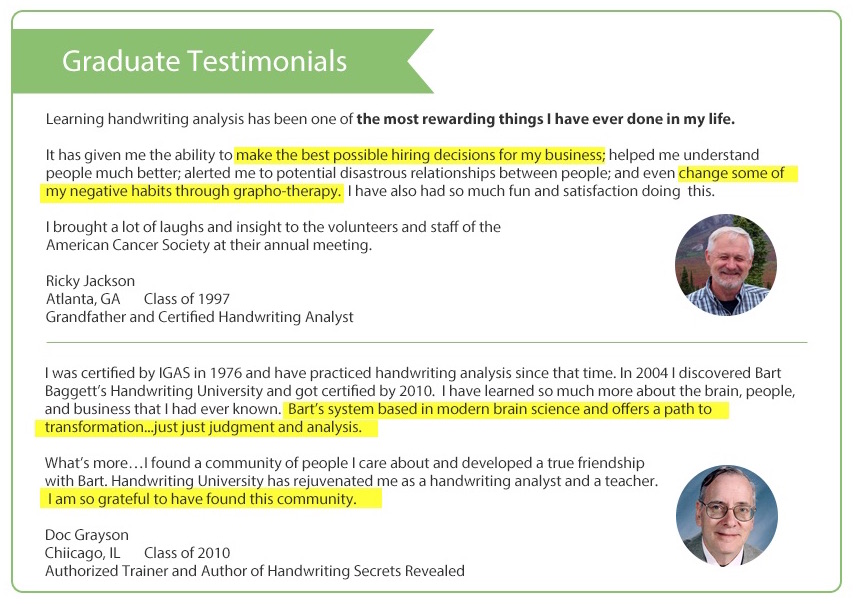 Please order on-line using our secure on-line catalog.
Don't take my word for it.
Listen to what students have to say.
Yes, I'm very familiar with Bart Baggett's programs since those are the ones I first studied for my certification. Because of my own experience, I can highly recommend you start with his programs. They are easy to understand and will give you an excellent basis for your study. Bart and Curtis have a friendly, open style of presenting the material. Throughout the course they also provide excellent examples of how to make your analysis understandable for the folks who hire you. In fact, I like Bart's programs so much that I offer them for sale through my website.
- Katie Darden, Career Life.net
I am making a $100 an hour reading handwriting at parties, impressing those with my highly accurate assessment of them without ever having met them before! And all my knowledge comes from Bart's books, courses, and tapes. There is a great deal of depth to handwriting analysis, more than just entertainment. For those who want to really develop their knowledge of this skill, Bart Baggett's courses, without a doubt, lead the way.
- Read Greyer, Author
"My Handwriting Analysis Course has had the biggest impact on my life... it was the start of a life transformation. My self-esteem, confidence, creativity, and speed of learning have been dramatically strengthened. The results were quick and permanent. Oh, thank you so much for sharing this information. I recommend it to people everywhere I go!"
- Lisa Marie Allen-Bitner
"Everyone NEEDS this knowledge. I'll never date or hire anyone ever again without analyzing the handwriting. This course has changed my life... and it is a hell of a lot of fun, too!"
-- Wayne Brown
Listen to other students talk about how handwriting changed their lives!