New York / New Jersey Area
Date currently being scheduled, TBA

Hi there, this is Bart Baggett and I have been asked repeatedly over the years to create an event where I can sit with you one on one and analyze handwriting right next to you. If you've been wanting to learn handwriting analysis in a way where you can gain a deep understanding, then this event is for you.
I understand that learning through a home study course can sometimes be challenging. I understand that listening to DVDs and CDs is not always the ideal way to learn... but it has trained thousands of people around the world that are excellent handwriting analysts. With that being said, I'd like to offer an opportunity to sit down with me and pick my brain.

I guess that's the best phrase to describe this two day event. You and nine other people can sit in an intimate conference room and pick my brain until all your questions are answered (or my head is empty - whichever comes first.) What I have planned for you is not a lecture where I speak for eight hours and you take notes. NO. NO. NO.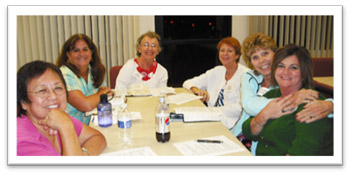 This is an interactive two way CONVERSATION where I talk about handwriting traits, I tell you everything I know about the psychology behind it; the motivation, source, drive, and any story that comes to mind. In the middle of it all, you will be able to ask me questions. You might ask about how it manifests in your own life, other people's lives and how it mixes with other personality traits you might see in the handwriting. It is an in-depth discussion of psychology, personality, and personal development making you a more educated, confident, and accurate handwriting analyst.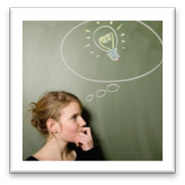 I want to help you diagram a handwriting sample using arrows and notes, so you can understand the mental process I use when analyzing handwriting. We will have fresh handwriting samples which you will get to "diagram" with my help and come to a conclusion about which traits are significant or missing.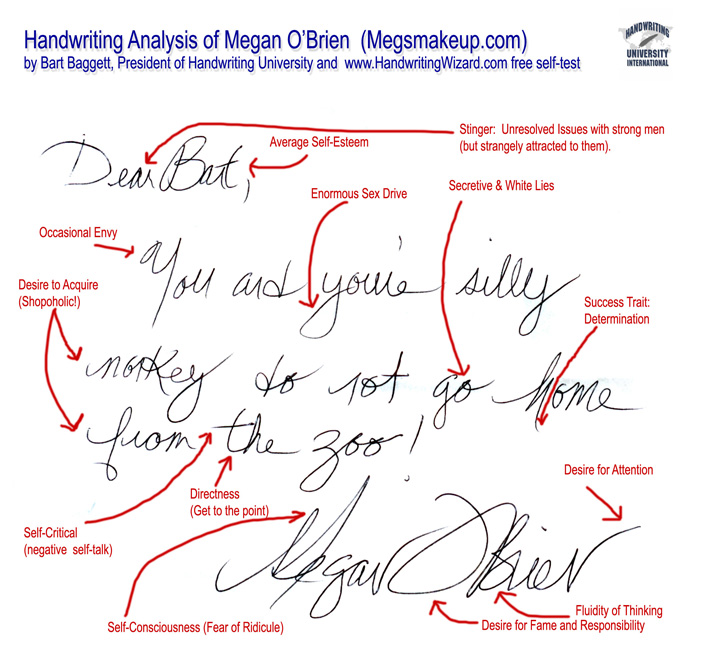 This is a step-by-step, highly personalized event which will help you overcome any doubts you have about certain traits, clarify any questions, and remove any mental blocks about being absolutely confident that what you see in the handwriting is accurate and that you are going to say the right thing.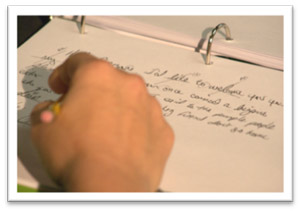 What I've noticed from teaching handwriting analysis for the last 20 years is that people are uncomfortable because they have a burning question. Therefore, they're shy, hesitant or they make poor to average decisions when analyzing a handwriting sample. I want you to make great decisions. I want you to be accurate, just like I am. I want you to understand the mental process that I go through when I analyze a handwriting sample so that you too can get the, "Amazing! Oh my god, how did you see that?" response.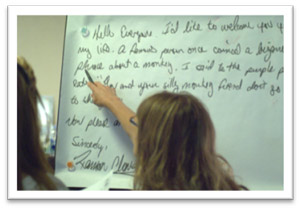 If you've ever wanted some semi-private, personal coaching so that you can become a better judge of human beings' personality motivations, then come to New York and spend some time with me and just a few other students. I'm strictly limiting this event to ten students so that you can have a lot of personal time; We'll be eating lunch together, visiting socially on Friday night, and be in the intimate conference room all weekend. You'll get unlimited personal attention as you and nine other people pick my brain.
Now you'd think I'd be charging $2,000.00 or $3,000.00 to be able to spend this much time with you in such a private, small group setting. Well, I probably could stuff 30 people in the room... but I want you to have a different experience than a large packed conference. (Conferences are great experiences, but it is a different experience.)
Actually I've priced it at about the same price that we charged for each ticket at our last Conference in Las Vegas. You can RSVP your seat for just $595.00. Why? Because I want to connect with you. I want to create a few stellar, amazing, certified handwriting analysts from around the world that represent handwriting in a wonderful way. I want to train you, I want to connect with you, and I want to help you build a career.
I'm not raising the price after 4 days. I'm not offering some super duper bonus if you respond by midnight... it's quite simple. There are 10 seats and then there are no more. First come, first serve.

This seminar is currently being rescheduled

Please reserve your seat by clicking the order button above. Once we have 10 confirmed individuals, this page will be closed for new enrollments and we will start a "stand-by" list in the case of any cancellations. Also, if you want to attend but you Also, if you want to attend but you cannot make it this weekend, send us an email and ask us about creating a second event later this year in this city. Naturally, if we choose to have another such weekend event in this city, you would be the first to be notified based on your expressed interest. At this time, we do not have another scheduled during 2012 in Los Angeles /Dallas, NY.
If you have any questions about attending this event, please call and chat with the event coordinator, Beth Chrisman (310-684-3489 Ext. 8). This event was her idea about the kind of special training she wanted to have when she first learned about handwriting analysis and began her training. If you have any ideas to make it even better or add something just for you... please ask.
First come, first serve. You don't have to be certified to attend. You don't even have to own the 301 Home Study Course (but it doesn't hurt.) You don't have to ever become certified after you leave or sit for the optional examination Sunday afternoon (but you can if you're ready!) However, with that being said, I do want you to at least have a working knowledge of the basic Handwriting 101 course and have memorized at least 50 different primary traits (or at least mostly memorized, the Grapho-deck cards.) If you do that, we can dig into the psychology behind the traits and help you become the best judge of psychology and personality you could ever be.

New York / New Jersey Area
Spend a weekend with me and walk away a better handwriting analyst.

Bart Baggett is the founder of Handwriting University International which has students in 21 countries worldwide and campuses across the USA, Taiwan, and India. Since writing his first book at age 23, he has become a worldwide leader in handwriting analysis, grapho-therapy, and a leader in personal development. He has appeared on over 1500 radio / TV programs including CNN's Larry King Live and the Today Show.

Since 1996, he has been training and certifying individuals in the scientific methods of handwriting analysis and grapho-therapy. He has a #1 best seller at Amazon.com and his first book has sold over 50,000 copies worldwide. He is a highly paid professional speaker and spokesperson on TV.

Mr. Baggett lives in Los Angeles, California and spends his time doing forensic document examination, professional speaking, and even producing and acting in feature films. He is a very interesting and world traveled individual. You will enjoy your time with him.
1-310-684-3489
ext 8
Call our office anytime with questions.