Ready to make money with your handwriting analysis skills?
On this page, you can order the Complete Business Marketing System
created by Bart Baggett.

How to Be a Highly Paid Hiring Speaker, Expert, and Consultant Through Handwriting Analysis.  

This new 2017 9 Part Video training course will train you to become a highly paid professional handwriting expert with multiple income streams.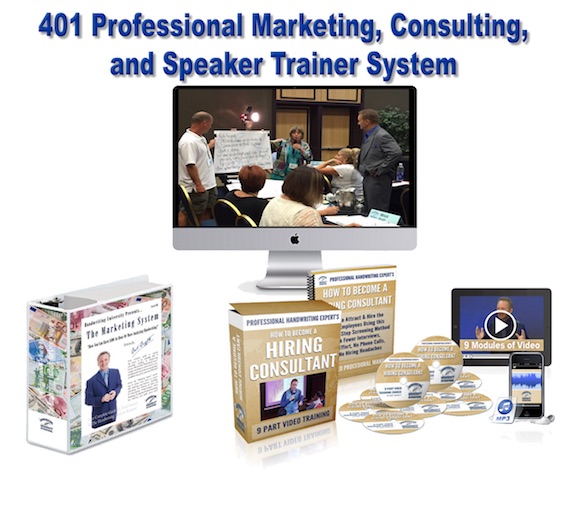 Dear Handwriting Analyst,
If you have ever dreamed of having the freedom and rewards of working for yourself? You can be the local authority on handwriting analysis in your home town. Now, is the right time to consider all the good reasons to open your own handwriting analysis business.
It is a rewarding and lucrative full or part time venture. Now, you can leverage the power of the Internet, your social and speaking skills, business skills, and our online video and audio training to quickly launch your own independent handwriting anlalysis business. Plus, after you move through the 401 program, you can join our monthy "Marketing Mastermind" program and even submit an application to become an Authorized Trainer as part of Handwriting University's worldwide expansion.
"Thanks for a great course! I am enjoying

my title of certified handwriting analyst!

The whole new world has opened up for me.

There is so much opportunity in this field"

--Mona Kulkarni (Bombay, India)
Handwriting University now has Three programs which help you
learn marketing and advertising to start your own business. This page describes the way to "unlock" and get instant access to the three program new revsied 401 Marketingprogram.
The new 2017"401 Become a Professional Speaker Training Program " How to get started as a new speaker sharing handwriting analysis. This is the starting point for all new handwriting analyst that want to make some extra money at events, corporate or house parties and giving free or low-fee lectures. This is a great starting point for launching your career before you are ready to move up to the Authorized Mentor /Professional Speaker Program.
Become a Respected Speaker and Get Paid for Every Lecture You Give.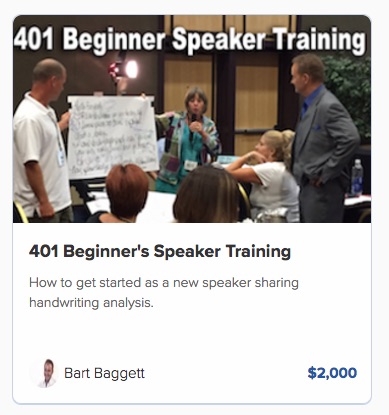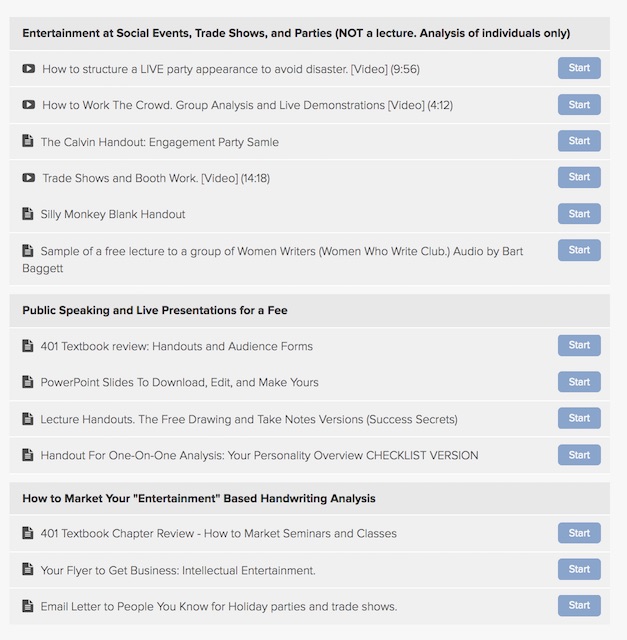 Hiring Be A Highly Paid Hiring Consultant VideoTraining: $997 Value
Earn up to $1400 per candidate you place.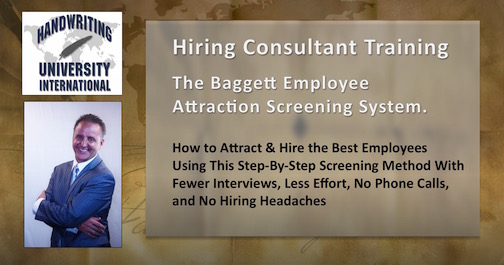 How to attract and hire the best employees using this step-by-step screening method with fewer interviews, less effort, no phone calls, and no hiring headaches.
Become a Certified and highly trained Human Resource professional helping companies find the right employee for the right job.
You will learn a specific advertising and recruiting system that stands out as unique and different in this decade.
You stop billing by the hour and begin to earn thousands of dollars per successfully placed employees.
This program includes detailed marketing resources and tools to start finding happy paying clients as soon as you are ready to begin taking clients.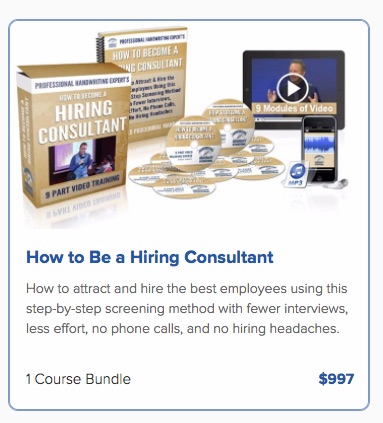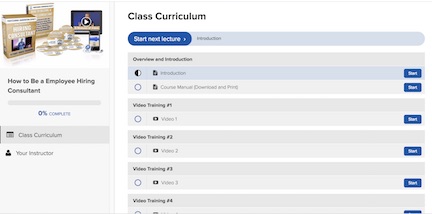 The "401 Classic Marketing System" was developed started in 1996 and has been constantly updated since them. So, it includes recordings and tips from the 1990's - 2014. Most students say the most valuable part of the course is the easy to duplicated "templates" and access the Grapho-Web 2.0 Analysis Software... which reduces your time doing a written analysis from 2 hours to less than 25 minutes.
Access over 30 years of Marketing Swipe files: Flyers, Sales letters, and Business Cards, Radio Interview Transcripts and more that attract Paying Clients.
Yes, full lifetime access to Grapho-Web software included!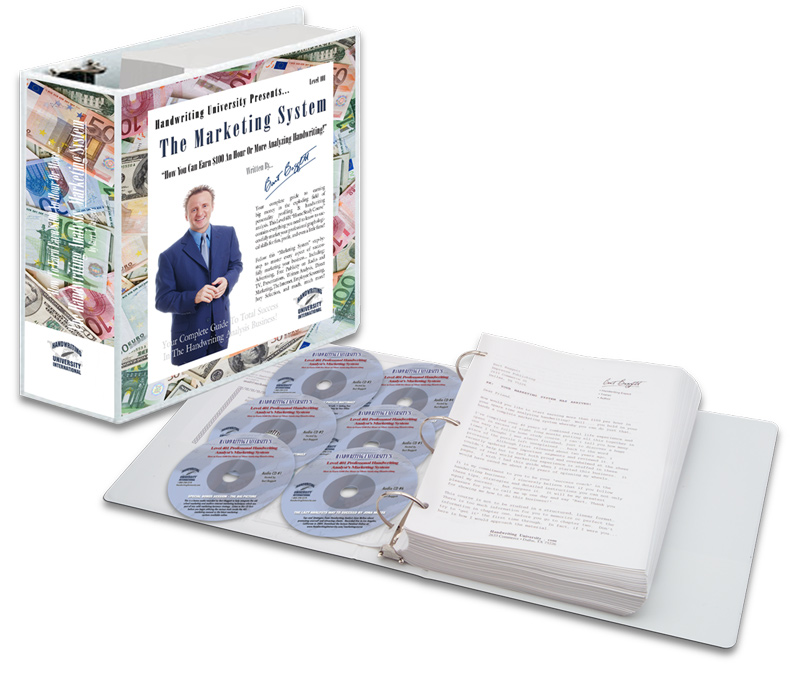 HoThis collection of presentations, video trainings, letters, and flyers which assist the new handwriting analyst into quickly having success in marketing their speaking skills and handwriting analysis skills as both entertainment and education. This program is the first step in getting experience as a professional handwriting expert and trainer. This program is best used in association with the Marketing Mastermind group program. This is part 3 of a the three section program called the 401 Professional Marketing System. This site only contains this section. The other two sections are located elsewhere. Contact customer service for full access to all three sections.
wever, because you get live webinar access to Bart Baggett with the Marketing Mastermind program and you do not access with the 401 Marketing System home study course, most students start with the 401 and enroll into th Marketing Mastermind as soon as they can feel they are ready to attend live classes directly with Bart Baggett.
The 501 program does not include any marketing, the 501 is advanced trait stacking and advanced grapho-therapy. The 501 Mastery course is to master your skills, not sell your services. The 501 program is sold separately and is not part of this 401 program.

This newly updated Level 401 Professional Marketing System has
four key components that will assist you in succeeding in business.
The 300+ page Marketing Manual, written by Bart Baggett. This specific part of the course includes 4-5 hours of information-packed audio (CDS or MP3) which relates to the content of the manual. However, inside the "membership area", there is another 5-10 hours of "brand-new audio lectures all on business and video webinars" just for handwriting experts. These CDs feature interviews and advice from more than one highly successful handwriting expert about business and marketing the business of consulting, speaking, and analyzing handwriting.

When you follow the system outlined here, you can succeed in earning $100-$500 per hour as a highly respected authority in the field of handwriting analysis in your local town or worldwide. We even include templates for business cards, flyers, press releases and transcripts of how to do a radio interview.
The Classic Marketing Manual covers these essential topics.
6 Hours of Instructional Audio on Audio MP3 download inside our private password members only area:

Interviews of the country's most successful analysts. Learn their day-to-day operations and marketing methods.
Inside Secrets on making money from every angle of your handwriting business -- newspapers, lawyers, corporations, lectures, parties, magazines, and even radio interviews!
Special interview with Phyllis Mattingly about Document Examining, Jury Screening, Public Speaking, and lots more!
The Classic Marketing 300+ Page Binder Includes:
Section 1
Introduction by Bart Baggett Conversations with Phyllis Mattingly
Section 2
Live In-Person Handwriting Analysis for Entertainment
How to get booked at a party, batmizvah, happy hour, or any other social function.
Section 3
Writing and Preparing A Comprehensive Written Analysis.
Section 4
Computer Software Grapho 2.0
Section 5
How to Successfully Market Handwriting Seminars and classes. How You Can Give Lectures and Speeches.
Section 6
Everything You Need to Deliver a World Class Presentation, Speech, or Seminar and Have the Audience Begging for More.
Section 7
How to Double Your Income Selling Products Wherever You Go.
Section 8
How to Get Thousands of Dollars
in Free Publicity Through the Print Media
Section 9
How to Get booked on radio shows. Get curious paying customers calling you and sound like a pro from the very first interview.
Section 10
Complete Transcript of Radio Interview on WATR-AM
Section 11
Advertising: How to (and how not to) Advertise Your Handwriting Business
Section 12
Personnel Selection: How to get the job of screening applicants for corporations and small businesses.
Section 13
How to Create Sales and Advertising That Really Sells.
Samples of business cards, brochures, and flyers for you to "borrow."
Section 14
Making Money on the Internet
Section 15
Misc Section: Handwriting Samples, Exhibits, Jury Screening, Selecting Tenants, etc.
Bonus Sections and Transcripts
Grapho-Therapy Top 10 Questions
How to Say Negative Traits in a Good Way
How to Create a $650 Written Report
Marketing Roundtable Transcripts and Audio Discussions Recorded Live at the Annual Conference
Marketing Lessons covering topics such as increasing traffic to your website, tracking, Google Per Click, Google Analytics and more.
Video Tutorials for Marketing Your Handwriting Analysis Business
Current blog entries and online access to freshly recorded video tutorials (with online access version only)
Special Sections in the above sections:
How to get FREE Publicity from newspapers and magazines. This report alone can help recoup your entire investment in this program. Includes over 15 actual articles and press releases for you to model and study so you can start writing your own.
How to Successfully Market and Teach Handwriting Seminars. This includes handouts, flyers, class outlines, and even the option of teaching a certification course in your home town.
How Not To Waste A Nickel on $10,000 Worth of Advertising! Ads That Work and Don't Work - This Special Report that will save you thousands of dollars marketing your new business. This will show you how to use advertising to fuel your new business in every detail...step by step. Which ads to place, which publications, word for word ad copy, and the single most costly common mistake to avoid at all costs when advertising.
How to get hired by corporations - Special Report.
How To Get Booked at A Party, Bar Mitzvah, Happy Hour or Any other Social Function for Fun and Profit.
How to prepare and deliver a comprehensive written analysis.
How to give a radio or newspaper interview. Actual transcript of a radio interview to guide you on how to field questions from the media and come out looking like a saint!
Jury Screening and working with lawyers.
The entire Audio section and 300+ Page PDF manual is available for online delivery in MP3 / PDF format. Order now using the "online access" option and , be reading and listening in the next ten minutes.
The Grapho Web 2.0 Software for Professional Written Analysis. Created by Bart Baggett this software assist you in creating a written report in minutes, not hours. The software generates a 4 pages written analysis using the writer's first name and key traits in an easy to read, report format. You, the analysts, input the key traits and then edit to perfection in any word processing program. It also includes an exclusive software program so you can create 4-8 page written analyses in under 20 minutes. Perfect for those long comprehensive analyses for which you charge $100-$600 or each. This software is available using a password protected website, so you an use it with a PC or MAC.
"I recently charged $600 to an international business man
for such a report on his x-wife. He was very pleased.
My total time using the program was under 90 minutes to
generate a 8 page report with customization."
Grapho-Web 2.0 Handwriting Analysis Tool for Customized Written Handwriting Analysis Reports. (For all computer platforms). $500 value

(Note: The Grapho 1.0 and Grapho-Web 2.0 computer programs are NOT SOLD separately. It is Bart's belief that anyone attempting to earn a living selling handwriting analysis, and who also desires the computer program to increase his/ her income, NEEDS the information in the marketing course as well... it is substantially unique and valuable, even to an already successful handwriting analyst. Therefore he would be doing them a disservice by selling the program separately. At this time, in order to get the Grapho 1.0 or Grapho-Web 2.0 program, you must invest into the entire Marketing program. Remember, you have a one-year unconditional satisfaction guarantee.)

How You Can Be Booked Solid as the Guest Speaker at Clubs and organizations in your home town, Get A Standing Ovation Every Time, and Take Home a Pocket Full of Cash From Every Lecture!
This professional marketing program is for the person who:

Who wants to earn $100 or more per hour analyzing handwriting.

Who is interested in working for himself/ herself as an entrepreneur.

Who enjoys interacting with people and changing lives through handwriting analysis.

Who loves handwriting analysis but has not figured out a way to make real money doing it.
" I not only got my Valentines article accepted, I HAVE MY OWN WEEKLY COLUMN! It was so great, I just sat down and the editor told me he had been looking for something like this for awhile; and I just dropped it into his lap! Thanks so much for your course and the info on how to get published and make money at this. By the way, I'll get $50 for each article! I won't get rich, but it's a great start considering I just got my certificate last week! Thanks again for everything! My life has truly changed for the better! Keeping my t-bars high!
-- Tracy Wilson

"The marketing course has created lots of enthusiasm in me. It really inspired me because it clearly illustrates all the options available in this field and I am so excited about trying them all!" -- Jackie Ahmadzadeh, Odessa, TX



Miranda Fitchett
She uses handwriting analysis and forensic document examining
to assist in her career as a law enforcement officer in dealing with criminals.

---

1. I want to gain instant access to the Professional 401 Marketing Course.

Just $2700 if you bought them all separetly. However, if you purchase now, using the secure online system all three programs are bundled into the 401 marketing system.
Now just $999 during this online sale.

Or, just an additional $599 if you are already an Authorized Mentor and Graduate of Handwriting University

100% Online Access for the 401 Marketing Mastermind Home Study Course

Order here if you are already an Authorized Mentor and Graduate of Handwriting University

$599 special price for Authorized Mentors only.

100% Online Access for the 401 Marketing Mastermind Home Study Course with 8 hours of 2016 Video Training and 6 hours of Audio Marketing Roundtable Discussions.

One payment of $2700,(Includes the Silver Marketing 300 page PDF, Audio and Video downloads, and Grapho-Web access, described above and full access to the other brand new training program in the SILVER package.)

P.S. If you are are internet savvy and you have the ability to listen to the mp3 files and download the entire PDF manual and the mp3 files from our online site, consider ordering this 401 course entirely online and in the package to save money and zero dollars for shipping fees (since we don't ship it to you, you will access the course online.)

In fact, our entire training program from the 101,201, 301 and even our advanced marketing classes for the Authorized Mentors is now now available to qualified students worldwide with no shipping fees , no printing fees, and instant access.

*More about the Level 401 Professional Marketing Program *

"The How to Make Hundreds of Dollars Per Hour Analyzing Handwriting Marketing System"
The 401 Professional Marketing System Can Be Purchased Seperately or as part of the Authorized Trainer Program. Calll our office to determine if you are qualified.
401 MARKETING PROGRAM INVESTMENT:
Retail Price $2700
Online Special Price for Authorized Trainers Only $599.00 during this online promotion.
Instant Access to the new 401 level training area.


Purchase the 401 Professional Marketing Course (Authorized Trainers only)

The Authorized Trainer's "Speaker and Trainer" Program, is a special applicaiton only program with over 40 hours of archived "webinars" ready for you to download and listen to now. Plus, you get live classes per month to discuss how to turn your passion for graphology into a part-time business and start helping others through handwriting analysis and grapho-therapy. Once you have digested all the material in the 401 program, consider applying to be part of the authorized trainer program.
http://handwritinguniversity.com/authorizedtrainerprogram/
NOTE: For information about using our Secure On-line Ordering System, shipping,
international orders, and alternative ordering methods, please read additional order information.
Questions? Call ourInternational Headquarters:
1-800-398-2278
We now have a designated customer support person who lives in India with an Indian local phone number.
Visit our customer support portal for the current number.

| More Comments and Testimonials |
Handwriting University is the World Leader in Handwriting Analysis Training & Certification

Handwriting University International Headquarters
13437 Ventura Blvd Suite 213
Los Angeles, CA 91423
Office Hours M-F 9am-6pm
Questions about Enrollment, Products, or Courses
+1-310-684-3489 Extension 2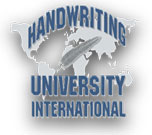 Call our International Headquarters with any questions about products here:
Course Enrollment & Sales: 1-310-684-3489 Ext. 2    Dave 9am-11am California Time, Brianna 12 pm-7pm California Time.
+91 (734) 951-6881 for Deepa in India, 5 pm – 9 pm India Standard Time
1-310-684-3489 extension 3 technical and member support.
Want to talk about enrolling into the certification course?  If so, just contact a local Authorized Trainer in your home country. 
Or schedule an appointment right now using our online scheduling system:  https://calendly.com/handwritinguniversity/
Chat with us now on Facebook. m.me/handwritinguniversity

---