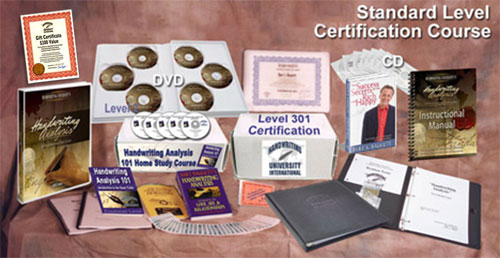 Yes! Enroll me now. I want to order the Home Study Course today. I want to see my name on an official "Certification" which I can hang on my wall for years to come.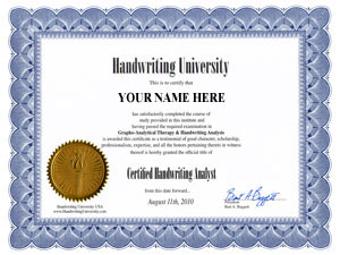 Yes! I realize this includes my texbooks and 21 tests for certification. I mail them in and schedule a verbal exam to qualify for my framed certificate!
Yes! Send me the latest DVD Video recorded live and 17 audio CDs which contain the very latest certification level seminar audio recordings (featuring Bart Baggett and the Handwriting University speakers).
Yes! Give me instant access to the 2016-2017 online training area which features brand new 2016 videos, quizzes, and course updates which are not on the DVDs!
Yes! I realize enrolling today gives me special "bonuses" which otherwise would cost me hundred of dollars extra. (PDF books, kids workbook, 101 course, Grapho-Deck, live tele-classes, etc.)
Yes! I realize I have an iron-clad money-back no questions-asked guarantee. Let me check it out risk-free!
Yes! I understand this home study course does not include a ticket to the next live Annual Conference or seminar (India and the USA), but by ordering this course, I am qualified to attend "VIP" seminars and even take my Certification Test if they are offered at such an event (tickets are sold seperately).
Yes! I understand this home study course does not include a one-on-one mentor or personal tutor. I have the option of enrolling through an Authorized Trainer and can get personal tutoring later in the year if I need it directly from those people.