Visit the limited time Discount Page for this month's special course discounts and savings!

Frequently Asked Questions
About Handwriting Analysis
Student Resources:
If you are writing a research paper on handwriting analysis, click here.
Many thanks to all of our visitors and students who have e-mailed, faxed or called with inquiries about Handwriting Analysis! Our most commonly asked questions are answered here.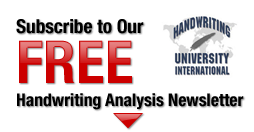 Your Information is 100% secure with us and will never be shared with anyone.
---
A: It is a scientific method of identifying, evaluating, and understanding a person's personality via the strokes and patterns revealed by his handwriting. It is not document examining, which is when a person examines a sample of writing to determine the author. Document examining is often used in forgery cases. In document examining, no comment of character or personality is derived from the handwriting.
Q2: Do the terms graphology, handwriting analysis, and Graphoanalysis mean the same thing?


Q3: What can be told about a person from his handwriting?


Q4: What can one NOT tell from handwriting analysis?


Q5: How does handwriting reveal personality?


Q6: How accurate is handwriting analysis?


Q7: How old is handwriting analysis?


Q8: Is handwriting analysis a science or an art?


Q9: Who uses handwriting analysis?


Q10: What about people who print?


Q11: What about people who have a combination of both printing and cursive?


Q12: Why does my handwriting change from day to day?


Q13: What can be told from a person's signature?


Q14: My signature is illegible. What does that mean?


Q15: Why is my signature different than how I write everything else?


Q16: Do you analyze the writing of a left-handed person the same as a right-handed person?


Q17: Why do left-handed people slant their letters backwards?


Q18: Are there "good" and "bad" traits?


Q19: Is handwriting analysis an invasion of privacy?


Q20: How prevalent is handwriting analysis in companies for employee screening?


Q21: Can handwriting reveal a person's honesty?


Q22: Can you tell if a person is a criminal by his handwriting?


Q23: Why don't people write the way they were taught in elementary school?


Q24: Is handwriting analysis the same for all languages?


Q25: Can I really change my personality by changing my handwriting?


Q26: I have a tendency to imitate other peoples' handwriting. What does this mean?


Q27: If I see writing on a daily basis which is uniform and attractive, I mimic the style. Does this show a lack of personal style?


Q28: After copying a style for a while, I can also mimic signatures. I wouldn't say they're perfect, but they do greatly resemble one another.


Q29: Do police departments use the services of certified handwriting analysts?


Q30: Are handwriting analysts used by corporations when there is a theft and they are trying to find the culprit?


Q31: Is there ample work for a handwriting analyst, or is it very limited?


Q32: I sometimes forget to cross my t's and dot my i's. What does this mean?


Q33: I'm wondering about the correlation between handwriting analysis and the Myers-Briggs personality typing system. Are you able to identify personality type based on handwriting analysis?


Q34: If I forwarded you by e-mail a scan of a handwriting sample, can you answer some specific questions about certain letters I have?


Q35: One graphologist told me that if the trait is in the handwriting, then it's a reality; another said it's possible to carry only the trait and never act on it. Please let me know your thoughts on this.


Q36: Do you know of any specific criminal traits in writing? If I scanned some short samples of writing and e-mailed them to you, could you look them over quickly and point out any criminal, mental illness, or anti-social identifying traits?


Q37: When a person is writing about something they like, such as football, or a sport, or even chess or gambling, is there any way to determine if they are good at this by reading the traits?


Q38: Can you find out what job one might excel at by graphology traits?


Q39: Can I forward you some written samples so you can show me how to identify criminal and other important traits in social work?


Q40: I am quite interested in your book "Change Your Handwriting Change Yourself" (sorry if wrong name) but want to know how it is different than the dozens of other books on the market.

I am real interested in learning graphology for the type of work that I do (Professor, Private Education to Business Consultant-NJ Department of Education, NYC Board of Education, etc. and Career Counselor) but find it difficult to remember the small nuances and minor differences in interpretation.

I once read that nearly 80 percent of job applicants in France are screened by their handwriting; I would like to introduce this concept to HR people in the dozens of corporations I work with in the NYC-NJ area and the educators I interface with but need a better handle on things. My funds are limited and would like to know how the aforementioned book, courses you sell, etc. are different than the ones collecting dust on my shelf by folks such as Bunker, Solomon, Parker, Martin, Morgan, McNichol, etc.?


Q41: Some people's handwriting looks alike. Is it really?

Q42: How drastically will my personality change if I change my handwriting?

A:
Grapho-Therapy is an effective yet complicated transformational tool.  Some individuals find that changing one letter has a mild and positive  affect on areas such as confidence or sensitive to criticism.  Other students have utilized the technique to change 5 or more personality traits and those students would claim it is a dramatic change.
So, it all depends on you and how much time and effort you put into the program.
We suggest you read the attached special report, which explains  the ins and outs of Grapho-therapy.  There is also a great video where Bart explains the scientific background.
//www.youtube.com/watch?v=gbVaCcfvI1A
//www.youtube.com/watch?v=IXMX-88ujjM
| Top |