Breaking News: Court finds Jackson Not Guilty on all Counts. But, Handwriting Experts find evidence to the contrary.
---

Handwriting University's Celebrity Personality Profile:
Michael Jackson



What does Michael Jackson's Handwriting
Reveal about his true nature?
Is he a pedophile? Is he a child molestor?

Written by Bart Baggett
President of Handwriting University.com
Pedophilia and criminal profiling contributed by Don Lehew
---
TABLE OF CONTENTS
---
1. Feature story: Michael Jackson's personality.
2. Spotlighted Learning Tool and Special Events / Monthly Discounts.
3. F.A.Q.
4. 18 Traits of a Pedophile Course by Don Lehew
---
FEATURE STORY:
Who is the real Michael Jackson?
---

The top story in most newspapers around the globe recently is the child related sexual assault charges now being pursued by the Santa Barbara County California Police Department. On June 13, 2005, Michael Jackson was acquitted of all charges... found not guilty.
So, the jury found insufficient evidence to convict him, but does his handwriting indicate the traits of a pedophile?
While handwriting document examination is often a tool used by police to establish evidence or place a person at the scene of a crime, this particular article is not about that form of forensic evidence. This "audio article" is about the character and personality revealed by his handwriting.
Handwriting Analysis cannot reveal the guilt or innocence of an accused person... but it can reveal clues to the type of person we are dealing with. Then, one could "rule out" certain suspects and "focus" on other suspects if the personality profile fits the crime.
So, what does Michael Jackson's handwriting reveal in regards to the accusations that he has been sexually inappropriate to a child?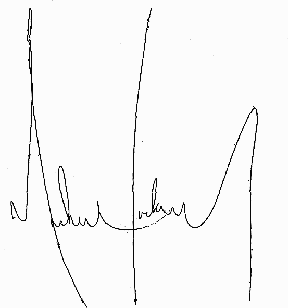 "This new signature / letter added June 4th, 2004. The above
audio was based on the normal signature above, not on the
ego maniacal full page autograph seen on this page. Wow.
Doesn't that just say it all? "
View more handwriting samples here on this contract.

Courtesy of smokinggun.com

Now this latest handwriting sample (analyzed in June, 2005), reveals more than just a signature and there are at least 12 of the 18 indicators correlated with convicted pedophiles.
(According to Don Lehew's Profiles of a Pedophile lecture given June 2005 at the annual conference. This entire lecture is available for sale now for just $37, but the entire video and audio online course will not be perfected until June 18th. So, pre-order and save big! You get immediate access to the site, but not all the files are working perfectly, yet. You get 1 hour of audio (MOV or AAC format), Select video hightlights and the Class Handout in PDF, and Michael Jackson's full analysis by Don Lehew.
The DVD version will not be for sale until July - but you can hear and view the entire lecture with PDF files, instantly online. Please allow us 48 hours to complete the online site... the Jury acquitted him sooner than we expected.... ha.)
Using FLASH AUDIO, you can click here and listen while you look at his signature.
Scroll Down for the audio file and my analysis...

"In less than a month after changing my handwriting the way Bart suggested,
things started to happen. I got rid of an abusive boyfriend, got better grades, and met my fiance. That was six years ago. The changes have helped me accomplish two degrees and a wonderful relationship.
As a bonus, it was easy."
- Christian Chrane, Bryan, TX mother and teacher
Scroll down for more about Michael Jackson
---
Advertisement
---