For the Media:
Press Information for Print, Radio, and TV To Book Bart Baggett as a guest, Call/ TEXT 1-310-614-6593 available Los Angeles and nationwide. Please leave a message or text. This numbers gets lots of spam calls.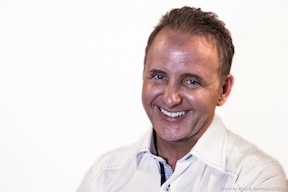 Book Bart Baggett now for your radio or TV Show.
One of America's best on-air talents.

Bart Baggett is the Nation's Leading Handwriting Expert in the eyes of news reporters, writers, on-air hosts, and producers who need good talent.He is the go-to expert forstories including celebrity gossip, politicans, forgery, handwriting, and criminal tendencies... Mr. Baggett is the media's first choice. What's more... he is radio and TV savvy. Quick witted and even has experience hosting his own radio show (KYNG-FM )and doing stand-up comedy on the Sunset Strip. He cut his media teeth on morning shows nationwide in the 1990's and has been a guest on over 1500 radio TV shows. He is now regular on CNN with Ashleigh Banfield. Bart has commented on the nation's leading criminal trials, forgery cases, and unsolved mysteries. He has appeared on most popular shows in the top 20 markets and has been a guest on dozens of the top TV shows over the past two decased. (CNN, Court TV, CNBC, Howard Stern, Jeff & Jer, Mancow,Good Morning America, The Today Show, etc). Mr. Baggett is the most TV and Media experienced handwriting expert in the world. Why call anyone else and risk your segment being legally wrong, technically sloppy, or boring? He especially loves MORNING RADIO. Have your listeners take a photograph of their own handwriting with their phone and get an instant analysis of their husband, wife, girlfriend of self... live on-the-air.
Video Clips from recent TV shows show below.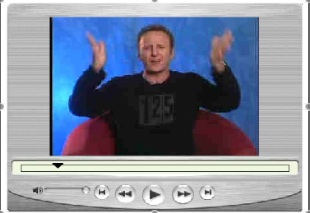 This video clip below contains clips from the Larry King Live CNN Interview, AMW, and Today Show. This is mostly serious "criminal forensics news topics). Bart Baggett makes TV producers look good. But, remember that on live TV... nobody is better with playful, fun, and comedic timing regarding handwriting of real people (listeners and co-hosts.)
Have Bart Baggett as a Guest on Your Show or as a feature in your next article.
Full length interviews available with handwriting samples and graphics emailed to you for an easy, visual, intriguing feature story. He have been the feature guest in Biography Magazine, on Court TV, Fox News, CBS This Morning, Today Show, Americ's Most Wanted, Treasure Detectives, and even on CNN's Larry King Live.
---
To Book, Call or Text us at 310-614-6593, available Los Angeles and nationwide.
| Hosts: How To Prepare For Radio Interview |
| Questions for Radio and TV Interviews |
| Bart Baggett Biographical Info |
---
Have your personality analyzed by the country's premier handwriting expert!
Not only can he reveal the hidden secrets of hosts, producers, politicians, and celebrities, he also discovers the strengths and weaknesses of your children, spouses and friends. His professional and casual style puts a humorous spin on this scientific method of personality analysis. During your interview, Bart will reveal:
The 5 Hell Traits in handwriting to avoid at all costs. Success Traits and Failure Traits revealed in handwriting. Which one letter reveals to the world your sex drive. How to raise your child's self-esteem by changing his/her handwriting! How to spot lying in your spouse' or kid's handwritten notes to you. Is your boss paranoid or just sensitive? Look at the letter d. The down and dirty personality secrets of your hosts, listeners, and coworkers!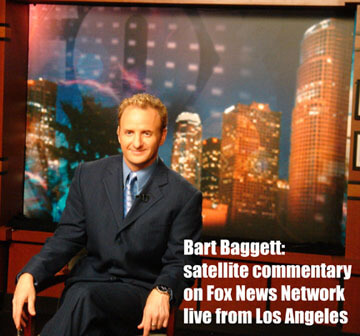 PRESS RELEASES
January 20th: Obama's Legacy: 7 Character Traits Revealed in Barack Obama's Handwriting Predict How Well this President will Lead a Nation in Turmoil
January 19th: National Handwriting Week. What Does Your John Hancock Reveal?
January 12th, Handwriting related industries squabble over John Hancock's real birthday
Barack O'Bama is no John F. Kennedy?
| National Handwriting Week - Graphology Bart Baggett Feature - January 21st- 27th 2007,|
| Survey Reveals 81% Believe Handwriting Analysis is Accurate January 21st, 2006 (HandwritingWizard.com) |
|

Identity Theft: What to do when your identity is stolen or your name forged. |
Liars and more Liars- | National Handwriting Week January 23-29th, 2005
2/14/2003 Love and Romance Press Release
10/17/2002 Baggett analyzes terrorist anthrax letters on CNN
6/11/2001 Press Release: Timothy McVeigh . Could this happen again?
6/2001 Handwriting Analysis: Timothy McVeigh's Prison Letters Reveal Oklahoma bomber's callous character.
5/2001 Bart Baggett's New Book Reveals Handwriting Success Secrets of the Rich and Happy - Forbes Small Business Tests his theory
| Handwriting Expert Tells School Children Not to Listen to Their Teachers |
India Handwriting Instittute News article
Handwriting Institute Bangalore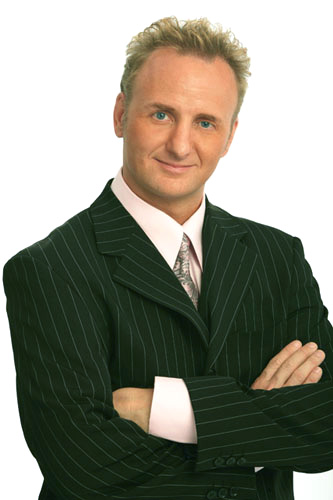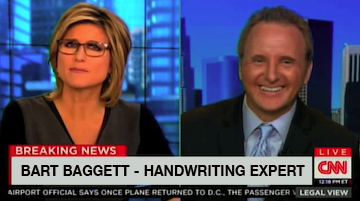 Bart Baggett Biographical Info
Bart's Forensic Document Examination CV and Site.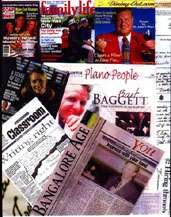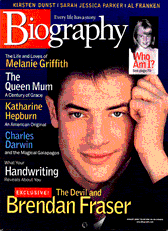 To all Producers,
"Don't put it off any longer! Entertaining guests that intrigue listeners and generate phone calls are few and far between, so book Bart Baggett now. His handwriting analysis interview jammed our fax with samples from listeners and we fielded calls the next several days regarding his handwriting analysis kit. Bart will be making several more appearances on our show over the next year and I encourage you to consider him for those horribly slow days when listener response is nil and let him make your job easier. Feel free to call for verbal references."
Sincerely,
Carmen Conners The Carmen and Chris Morning Show WSSR-Star 95.7 Tampa Bay, FL (95-00) Now in Minn, MN (01-current)
"Bart has been a regular guest on our show since 1995. We always get phone calls faxes and great listener response! As guests are concerned, he is a sure thing!"
-Jonathon Monk, The Monk & Kelly Show Las Vegas, NV KOOL FM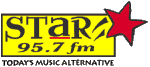 Photo of Carment Conners Star 95.7 FM logo
To book Bart on your show or to receive an emailed
EPK with most recent photographs, video interviews clips, and show ideas, simply call Bart Baggett's office at
323-544-9277 ext 9.
Available in Los Angeles and nationwide
See all of our products at our secure on-line catalog.
Subscribe to our free Newsletter!
On-Line Catalog | Free Special Reports | Hire an Expert | Live Seminars | Become A Certified Expert|Hire an Expert in California | Hire an Expert in Texas | Free Membership| List of Experts |
Handwriting Self-Test | Hire an Exper | Free Newsletter | Free Newsletters | Place an Order | Become a Reseller / Affiliate |For the Media
New Handwriting Experts Nationwide.
Online Handwriting Membership Training Course
Get your handwriting analyzed for free at the world's only Accurate Free Handwriting Self Test. HandwritingWizard.com