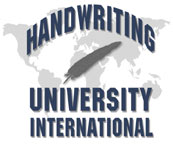 Survey Reveals 81% Believe Handwriting Analysis is Accurate.
Los Angeles, CA (PRWEB) January 21, 2006 -- Do-It-Yourself Handwriting Analysis website turns out to be more than a "game." Users concur results are more than chance and insights surprisingly accurate. What's more, the data collected from the users reveals surprising personality traits of the typical Internet user.
Based on a user survey, over 81.7% of the users rank the accuracy of the Handwriting Wizard over 80% accurate. This is surprising to skeptics and naysayers who still believe this psychological test is no more accurate than reading tea leaves.
What's more, the cumulative results of such a test gives sociologist, therapists, and psychologist great insight into the core issues of today's society... This is the first time a test of this size has been conducted using handwriting analysis as the psychological testing method.
Based on a user survey, over 81.7% of the users rank the accuracy of the Handwriting Wizard "Amazing" or "Darn Impressive ".
100% Amazing and surprisingly perfect. Like you've known me for years. 13.36%
90% + Pretty amazing. Almost perfect. 39.38%
80% + Darn impressive. Missed a few, but not many. 28.96%
When Bart Baggett launched the Handwriting Wizard website in 2004, he had no idea it would become the most popular destination of his network of handwriting analysis and self-help related websites. ( www.HandwritingWizard.com )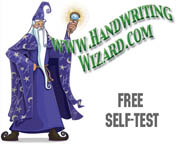 Deciding to make the membership free was a good decision, giving away an Apple Ipod was another smart move. Making it free gives people who are just curious to check it out and see for themselves if there is any truth to the claim that your handwriting is a reflection of your personality. It takes between 8-12 minutes to complete the online questionnaire which is the base data used to calculate the meaning of the strokes, letters, and curls of the typical cursive handwriting. Instantly, the user receives a 3-6 page "personality report" of writer. Many people use the test to get insight into their bosses, employees, lovers and spouses.
According website's creator, Bart Baggett, "The exit surveys are very encouraging for the accuracy of handwriting analysis in general. I expect 98-100% accuracy when I personally analyze handwriting using my own eyes. However, I never expected a generalized test to score so high considering the entire data being input is based on a just 52 graphical traits, no combining of the traits, and an untrained eye."
View full survey and users statistics: http://www.handwritingwizard.com/survey/results
I wouldn't suggest people make a marriage decision on the results of the handwriting wizard, but I could make a marriage decision from the information inside the book "Handwriting Analysis of Love, Sex, and Relationships" or from a professional consultation. (http://myhandwriting.com/booksetc/secretsb.html)
Really, people consult with on whether or not they should go further into a relationship. Naturally, these are mostly people on their 2nd marriage - they realize marriage is a financial risk and they want to cover all their basis. What if there is a hidden psychosis or pathological liar hiding behind those fluttering blue ga-ga eyes? Handwriting can cut through the facade and discover the truth of a person's character.
Some surprising results came from the cumulative data of the data input raw logs. If indeed handwriting strokes do correlate to a given personality type, the 150,000 people who have passed through this website in the past year can give us one of the most comprehensive snapshots of the mental state of the typical internet surfer.
Here are some of the more surprising conclusions, never before published, based on the user inputs in the past 12 months.
46.18 % are blunt and often disregard diplomacy.
38.68 % value pride, dignity, and others opinions to an extreme.
25.83% have a low to very low self-esteem.
55.71% use the defense mechanism of sarcasm regularly.
29.38% have a bad temper.
21.02% have an exceptionally large sex drive.
8.41 % have sexual perversions or bi-sexual tendencies.
18.80 % are very sexually frustrated.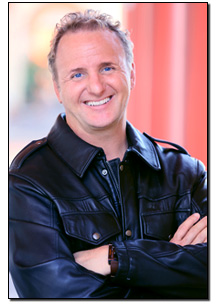 This validation of graphology comes just before National Handwriting Week is recognized the week of John Hancock's Birthday, (January 22-29, 2006). Handwriting University.com is offers training and certification in the science of handwriting analysis. They have campuses in India, China, and the USA. ( www.HandwritingUniversity.com )
About Bart Baggett, President of Handwriting University Bart is the author of five books on handwriting analysis, including "Handwriting Analysis 101" and "Success Secrets of the Rich and Happy" (Empresse Publishing).
Contact: Bart Baggett, Los Angeles, CA 1-800-398-2278
http://myhandwriting.com/media
Other resources: www.HandwritingWizard.com
http://handwritinguniversity.com
http://handwritingexpertusa.com
http://myhandwriting.com/analyze/index.html
###
Interviews with Baggett and local handwriting experts available.
or visit www.myhandwriting.com/media
To locate a qualified handwriting expert in your area, visit: www.handwritingexperts.com
---
To schedule an interview with Mr. Baggett, call at 310-779-7224. Available in Los Angeles and nationwide.
---
| On-Line Catalog | Free Special Reports | Handwriting Self-Test | Hire an Expert | Free Newsletter |
| Place an Order | Become a Reseller / Affiliate | For the Media | On-Line Catalog | Free Special Reports | Handwriting Self-Test | Hire an Expert | | On-Line Catalog | Free Special Reports | Handwriting Self-Test | Hire an Expert | Free Newsletter |
| Place an Order | Become a Reseller / Affiliate | For the Media |
| Place an Order | Become a Reseller / Affiliate | For the Media
---
Information about Bart A. Baggett
Questions or comments? Send e-mail to: press @ handwritinguniversity.com (no spaces in the email address)
Copyright �2019 Bart A. Baggett, All Rights Reserved