Celebrity Handwriting Samples:
What does Handwriting Analysis reveal about Peter Arnett, News Correspondent?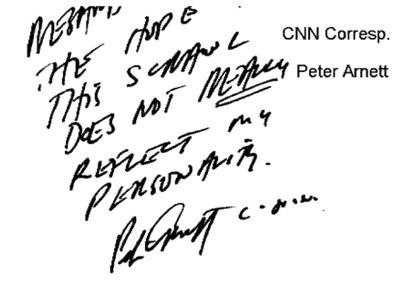 It appears that Peter is a very rigid person from the abundance of capitalized letters. He also is a very intelligent person, with a very high self-esteem with the high t-bars. He seems to be a person who tries to protect himself from others, emotionally and sexually. This comes from the single lower y and short lower strokes. He also seems to be a very spontaneous individual from the inconsistent flow of his writing. He's always in a hurry, like certain things are bothersome or beneath him. ...Analysis by Tom McNay, (student)
---
Attention Handwriting Analysis Students:
Please submit your analysis of this handwriting sample via email to mail@myhandwriting.com for posting here on the website.
---
| Return to Celebrity Handwriting Samples Directory |
---
| On-Line Catalog |
Handwriting Self-Test |
Hire an Expert |
Learn Handwriting Analysis |
Self-Improvement |
Books, Tapes and Videos |
Trait Dictionary |
Frequently Asked Questions |
Famous People |
For the Media |
Comments and Testimonials |
Chatroom |
Place an Order |
Home |
---
Information about Bart A. Baggett
Questions or comments? Send e-mail to: mail@myhandwriting.com
Copyright © 1995-2000 Bart A. Baggett, All Rights Reserved
Website Design and Maintenance by Bear Data Services

Thank you for visiting the world's most popular handwriting analysis website. Remember you can learn more about handwriting, handwriting analysis, graphology, handwriting experts, employment screening, document examining, or even earn $100 an hour as a professional handwriting expert (includes software) via our home study courses!