RESOURCE
DIRECTORY
News Release

Media Contact: Tel. 310-614-6593, available in Los Angeles and nationwide.

National Handwriting Week Spotlights Profiling Through Handwriting.
Handwriting Experts Nationwide Give a Nod to the Infamous Autograph of John Hancock.
Over 200 years ago, John Hancock penned the most distinctive signature on the Declaration of Independence and secured his place as the poster boy for the handwriting related arts and sciences.
Bart Baggett, President of Handwriting University International

In honor of his January birthday, the founding father's handwriting is analyzed by court qualified handwriting expert Bart Baggett, director of http://www.HandwritingUniversity.com. During National Handwriting Week, professionals who utilized handwriting for criminal profiling, fraud detection, pen and ink marketing, and even personality assessment give a nod the founding father's famous autograph.

Los Angeles, CA (Vocus/PRWEB ) January 12, 2010 ' The first and boldest signer of the Declaration of Independence, John Hancock is as well known for his signature as he is for his confidence and courage. In fact, two key components of his signature reveal why this strong leader earned the respect of the Continental Congress. During National Handwriting Week (January 18-24, 2010), centered on the January birthday of John Hancock, professionals in multiple industries utilize this famous signature to spotlight the advancement in their own handwriting related professions. Here are three such individuals who make a living through handwriting.

Bart Baggett is a professional profiler who teaches the science of understanding personalty through handwriting worldwide. Baggett also works with individuals and corporations attempting to make long-term decisions regarding employees or interpersonal relationships. His website HandwritingUniversity.com certifies students worldwide in the science. http://handwritingexpertusa.com
Beth Chrisman is a Los Angeles based forensic document examiner and Director of the International School of Forensic Document Examination. Beth is the curriculum developer for the international program insuring the next generation of handwriting experts are ethical, scientifically based, and ready to be court qualified. http://internationalschool.us
Kathy Carlson is a Colorado based forensic document examiner who works with attorneys and individuals who need a forensic handwriting expert to spot a forgery and provide testimony in court. All three individuals consider John Hancock the mascot of these various handwriting related endeavors. http://www.utahhandwritingexpert.com/
'There has always been a controversy around when John Hancock's birthday really was and what he said when he so boldly signed the Declaration of Independence,' says court qualified handwriting expert Bart Baggett, author of the best-selling 'Success Secrets of the Rich and Happy' (Empresse Publishing, $17.95 http://berichandhappy.com), 'America's Most Wanted' on-air handwriting expert and Director of Handwriting University. 'However, nobody can argue the true character expressed in this founding father's handwriting. It is as revealing as any biography I have read!'
Here's Baggett's analysis of John Hancock's underlined signature. He also used long strokes on many letters. Both traits demonstrate his enthusiasm and boundless energy. Further, Baggett has found that those who write with tall upper zone loops, often stand tall with strong ethics. The noticeably tall letters in Hancock's writing show his courage, pride and desire to be admired by his peers. His writing is an classic example of leadership and a great self esteem.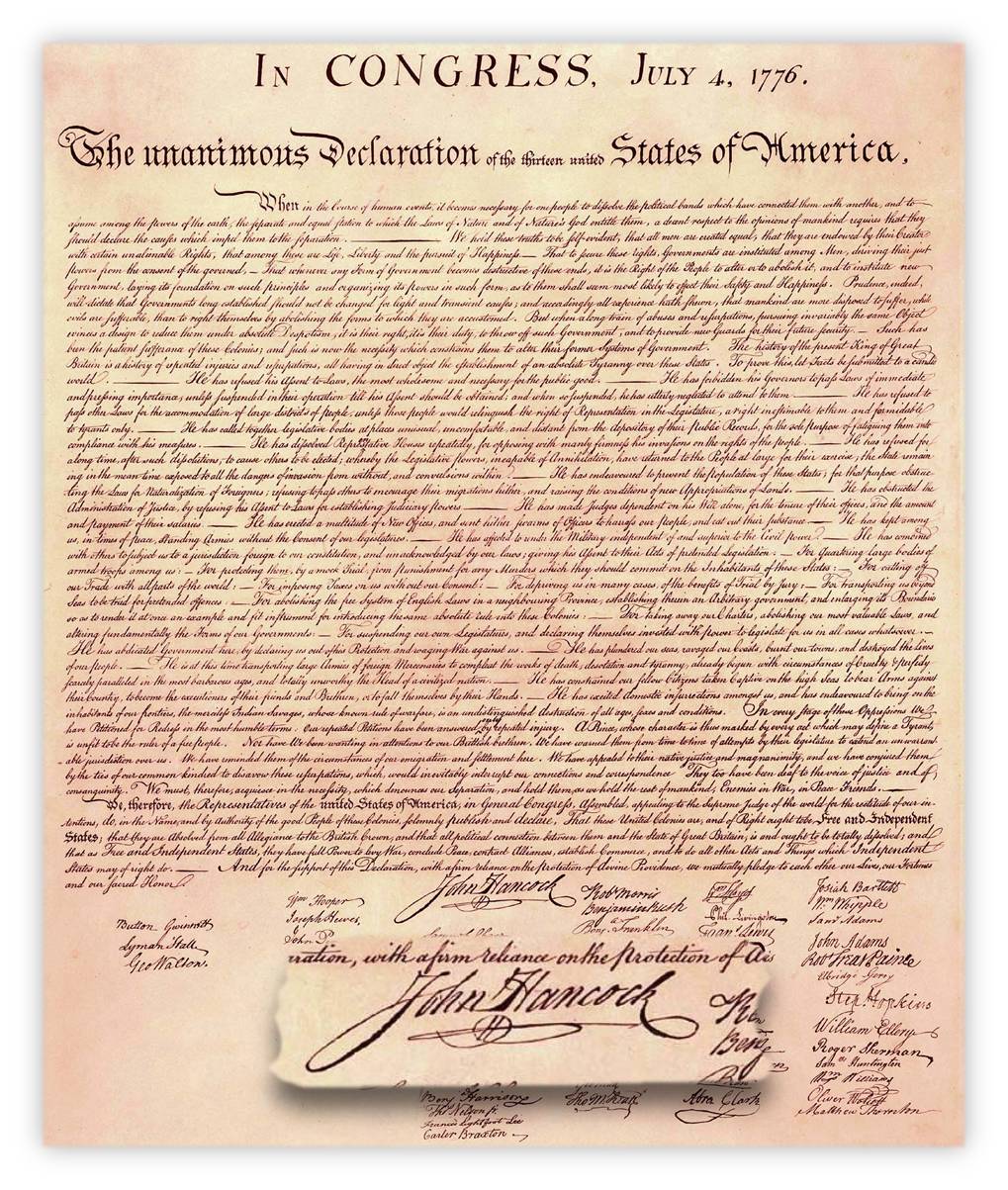 For those who don't underline their signatures and whose name is smaller in size, Baggett assures there are success traits revealed in other handwriting strokes, too. Here are some 'Success Secrets' outlined in Baggett's book;
Strong self-esteem (Large capital letters in a signature and high crossed t bars)

Determination (heavy down strokes below the baseline into the lower zone)

Persistence (not picking up your pen when you cross the letter t or A forming a star)

Long Lasting, Enduring Emotions (pressing very hard on the paper )
For a full press kit, visit : http://myhandwriting.com/media/
About Bart Baggett Bart Baggett is one of the world's top court qualified handwriting experts http://handwritingexperts.com/hsi. He is president of Handwriting University, www.HandwritingUniversity.com, which has students in over 17 countries and campuses in the USA, India, and Taiwan. He is a frequent guest on such TV networks as Court TV, CNN, and Fox News. He has even successfully survived appearances on the Howard Stern Show and VH1's 'I Love New York'.
Baggett lives in Los Angeles and is a faculty member of the International School of Forensic Document Examination, a distance learninschool which trains handwriting experts worldwide. The International School of Forensic Document Examination.
More information about handwriting analysis can be found at Baggett's online handwriting analysis membership site: Handwriting University. Or, discover what your handwriting reveals about you in a written report using Baggett's free online handwriting analysis self-test at Handwriting Wizard.